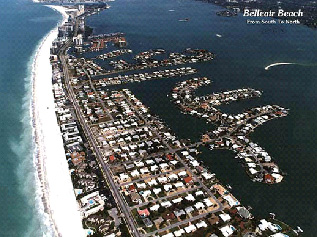 Belleair Beach
The City of Belleair Beach, chartered in 1950, is an upscale residential community located in Pinellas County. This lovely town is situated on a barrier island and serves as the home to a variety of families including those with children, empty-nesters, retirees, and seasonal residents.
Belleair Beach maintains a relaxed and peaceful atmosphere providing all the advantages of waterfront living and the charm of an old-fashioned neighborhood. Belleair Beach's residents are proud to have preserved one of the last strictly residential beach communities in Pinellas County.
The City of Belleair Beach is located in the west center portion of a tri-county metropolitan area. Within a short distance, residents and visitors can enjoy world class shopping, professional sporting events, dining, entertainment, and easy access to international air & sea ports.
The City's 4,500 feet of white sandy beach may be accessed through the City's four beach accesses, and three resident-only beach parking areas, and Morgan Street Park. Boaters enjoy the City's 7th Street Park Boat Ramp and the Municipal Marina. For those seeking a park experience, the City maintains eleven public parks including Morgan Beach Park, Bayside Park, and Crossman Park. The City also maintains two tennis courts and a basketball court near City Hall.
Belleair Beach Real Estate:
Single Family Homes:
Priced from $325,000 to $10,0000 Intracoastal & Bayfront homes may be found starting in the $600,000 range and up
Condominiums:
All of the condominiums in Belleair Beach are located on the Beach side. The prices range is as low as $200,000 range up to the $900,000 range.