Clearwater Beach
Geography:
: Located across the Memorial Causeway from downtown Clearwater, Clearwater Beach's 2.5-mile shore stretches from north to south. Its busy streets feel more like a booming Mexico. And nearby Sand Key Park is one of Pinellas County's gems, with its gulf access and park amenities.
History:
Until 1916, Clearwater Beach was accessible only by boat or a long swim. That year, a rickety, 2-mile wooden bridge was constructed, and in 1917, the Clearwater Beach Hotel opened for business to accommodate visitors to the then-remote beach town. The latest Memorial Causeway Bridge has been open since August 2005.
Beach:
The miles of shoreline provides access to countless water sports -- jet-skiing, Wave-Runners, parasailing, dolphin excursions and more. Arrive early to stake out a good spot. Jutting out into the Gulf is Pier 60, which has a daily sunset show with live entertainment.
Amenities:
With dolphin-sighting cruises, mini golf, an Internet coffee house, spa and dozens of restaurants, it could take days to run out of amusements and resort to actually lying on the sand. For that beach party feel, dine al fresco at Palm Pavilion on the north end or Shephard's down south. Afterwards, take a stroll along Mandalay Avenue for ice cream and souvenirs.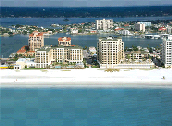 Clearwater Beach Real Estate:
A variety of options are available.
Single family homes:
on the island are priced from the low $200,000 range to over $5,000,000 for a spectacular Gulf Front Home.
Condominiums:
All shapes, sizes, finishes and locations are available as low as $75,000 to high of $5,000,000.
*Business Opportunities
also available.
---
---
---