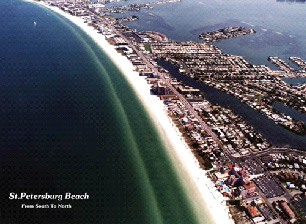 St. Pete Beach
The City of St. Pete Beach is a barrier island community located just off the Pinellas County mainland with a permanent population of about 10,032 (latest estimate from the University of Florida) The city is also a popular winter residence for many people living in other parts of the United States, Canada and Europe.

Property records show that about 28 percent of the total residential dwelling units in the city are owned by people claiming the primary residence elsewhere.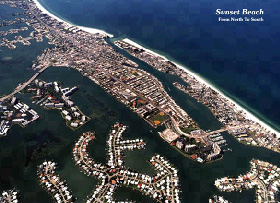 The city was incorporated in 1957 with the consolidation of the Towns of Pass-a-Grille, Don CeSar, Belle Vista, St. Petersburg Beach and unincorporated Pinellas County to become the City of St. Petersburg Beach. In 1994, the citizens voted to shorten the name to St. Pete Beach to lessen the confusion with the City of St. Petersburg, located on the mainland to the east.

St. Pete Beach is a significant tourist destination, having over 3,000 transient accommodation units, including major hotel and motel operations as well as many smaller, more intimate lodging facilities
St. Pete Beach Real Estate
Condominiums/Townhomes range from the very High End to the wonderful Vacation Resort Condominium and everything in between.


Beach Front Condominium prices range from the low side of $199,000 to as much as $2,500,000.
Bay Front Condominiums are also available in many different prices ranging from the low side of a $85,000 to the very High End of $2,000,000 for a gated community.
Single Family Homes - You can find just about anything you want in a Single Family. From the beach bungalow to the very High End. Beach bungalows, non-waterfront homes, waterfront homes with boat slips or Gulf Front Homes. The prices range from $179,000 up to $7,000,000.