Redington Beach
The Town of Redington Beach, Florida, is located on a barrier island in the Gulf of Mexico. We are bordered by North Redington Beach to the north, Madeira Beach to the south, the Intracoastal Waterway on the east, and the Gulf of Mexico on the west. Redington Beach is primarily a waterfront residential community. Redington Beach is a state chartered municipality, located in Pinellas County, west of Tampa, Tampa Bay and St. Petersburg.


The town is approximately 1 square mile in size. Redington Beach boasts 4 town parks, 5 public beach accesses, a causeway with benches for relaxing and fishing, and a community recreation area with basketball courts and a large children's playground.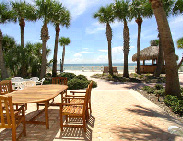 Primarily a residential community, comprised of single-family dwellings, with several low-rise condominium buildings and only two commercial properties. Redington Beach is bordered on the north by the town of Redington Shores and on the south by the city of Madeira Beach. It is bounded on the east by Boca Ciega Bay and the Intracoastal Waterway, and on the west by the Gulf of Mexico.

Redington Beach is a unique residential community nestled along the Barrier Islands in Pinellas County, Florida. Established in 1944, the Town of Redington Beach has approximately 828 households with a total population of about 1,680 people.


Redington Beach Real Estate
Beach Homes located directly on the Gulf of Mexico are priced between $1,900,000 and up. Occasionally you may find one for less.


Intracoastal Homes are priced as low as $399,000 up to $2,000,000


There are very few Condominiums offered on Redington Beach. Prices range $399,000 to $1,200,000