Indian Shores
Indian Rocks Beach South Shore is one of the oldest and smallest beach communities and had the longest name. It was originally an Indian campsite and got its name from the large red rocks found along its shoreline.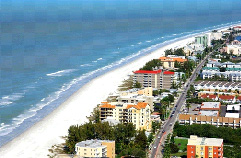 Its first "settlers" were a pair of Robinson Crusoe-Type brothers named Cochran.

In 1883 four Cedar Key speculators sailing to St. Petersburg, stopped to explore the Island. They were fascinated by the Island's possibilities for future development and bought it from the Cochran Brothers for a nominal sum. It is said the brothers bartered their Island "for little more than a string of beads and $25.00, figuratively speaking, like the Indians of Manhattan".

The region soon became a popular residential and vacation area. Many prominent Tampa residents built summer cottages on the Island, among them the D. B. McKays. Members of the McKay family served intermittently as Mayor of Tampa and publishers of the Tampa Tribune.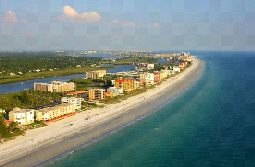 Until a wooden turn bridge was built in 1916, a ferryboat transported pedestrians to the Island, and a barge carried horses, buggies and a few automobiles to the summer resort.

In 1905 the Railroad ran a spur line from the mainland to the beach and a hotel was built, adding to the Island's popularity. The railroad spur was abandoned later, but the community continued to grow especially during the Post World War II building boom.

Indian Rocks Beach, South Shore was incorporated September 16, 1949 by general statute. It extends from 183rd Avenue to 202nd Avenue along Gulf Boulevard, the Community's north and south boundary.

The Town averages only a block in width between the Gulf of Mexico and by an area known as The Narrows. It was named Indian Rocks Beach, South Shore because the tiny community wanted a separate identity from the City of Indian Rocks Beach.

On September 16, 1949, a group of 42 registered voters and freeholders, met for the first time in the Beach Park Restaurant upstairs hall, to incorporate a Town under the Laws of the Florida Statute of 1941.
Indian Shores Real Estate
Indian Shores is one of my favorite beaches along Florida's Gulf Coast. Recently the power lines were buried underground and street lights replaced up and down the Boulevard. They are currently working on the installation of a bike path and additional sidewalks. Indian Shores offers a wide variety of condominium living as well as the occasional beach cottage. It is also home to the famous Salt Rock Grill.
Condominiums are available in all shapes, sizes and price ranges located on both the Gulf of Mexico and the Intracoastal waterway. Prices range from the high $100's to $3,950,000 for a luxurious penthouse condominium Residence at Tuscany by the Sea.
You can also find the occasional Beach Front cottage, Multi Family property or a little cottage within walking distance to the beach. These prices range from the $200,000 up to $3 Million.